Catwalks
---
Whichever side you fall on, there's no denying that fur had a major presence on the fall 2013 runways this past month, being hailed as one of the biggest trends for next season.
---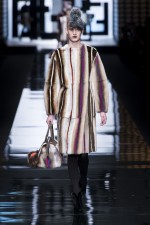 Striped, dyed, embossed, and manipulated, the sheer amount of real animal fur we saw this fashion month was more overwhelming than we remembered from seasons past. We found that a startling 70% of the designers who showed during fashion month used fur in at least one look. Several collections, including those by Altuzarra, Marc Jacobs, and Louis Vuitton, incorporated fur into over 20 looks. Others still, like J.Mendel, Marni, and Giambattista Valli, used fur in more than 30.Fendi: Every single look featured multiple instances of fur usage, including  handbags, sunglasses, shoes, and even mohawk-esque hair pieces made of dyed fox.
So is it safe to say that fur has finally fallen back into favor? Wearing fur has always been a hot button issue. According to Keith Kaplan, executive director of the Fur Information Council of America, the case against fur is due mostly to a lack of education–and the fashion world is at the forefront of changing those misconceptions. "Designers have done their homework, they have come to recognize that the fur industry is committed to the humane and responsible treatment of animals and that no industry is more highly regulated at local, national, and international levels."
In fact if you  consult data polling site Gallup.com , the most recent survey on the subject, conducted in May 2012, asked participants whether they considered wearing fur morally acceptable. Of the 1024 people included, a resounding 60% saw fur as morally acceptable–a 4% increase from the same poll taken one year earlier. However, in 2012, only 35% believed fur to be morally wrong–a 4% decrease from the 39% who were totally anti-fur in 2011.
From fashionista.com