Events
---
368 exhibiting companies and company representatives from 35countries gathered at the IDF 2014 , 9th Istanbul Leather Fair!
---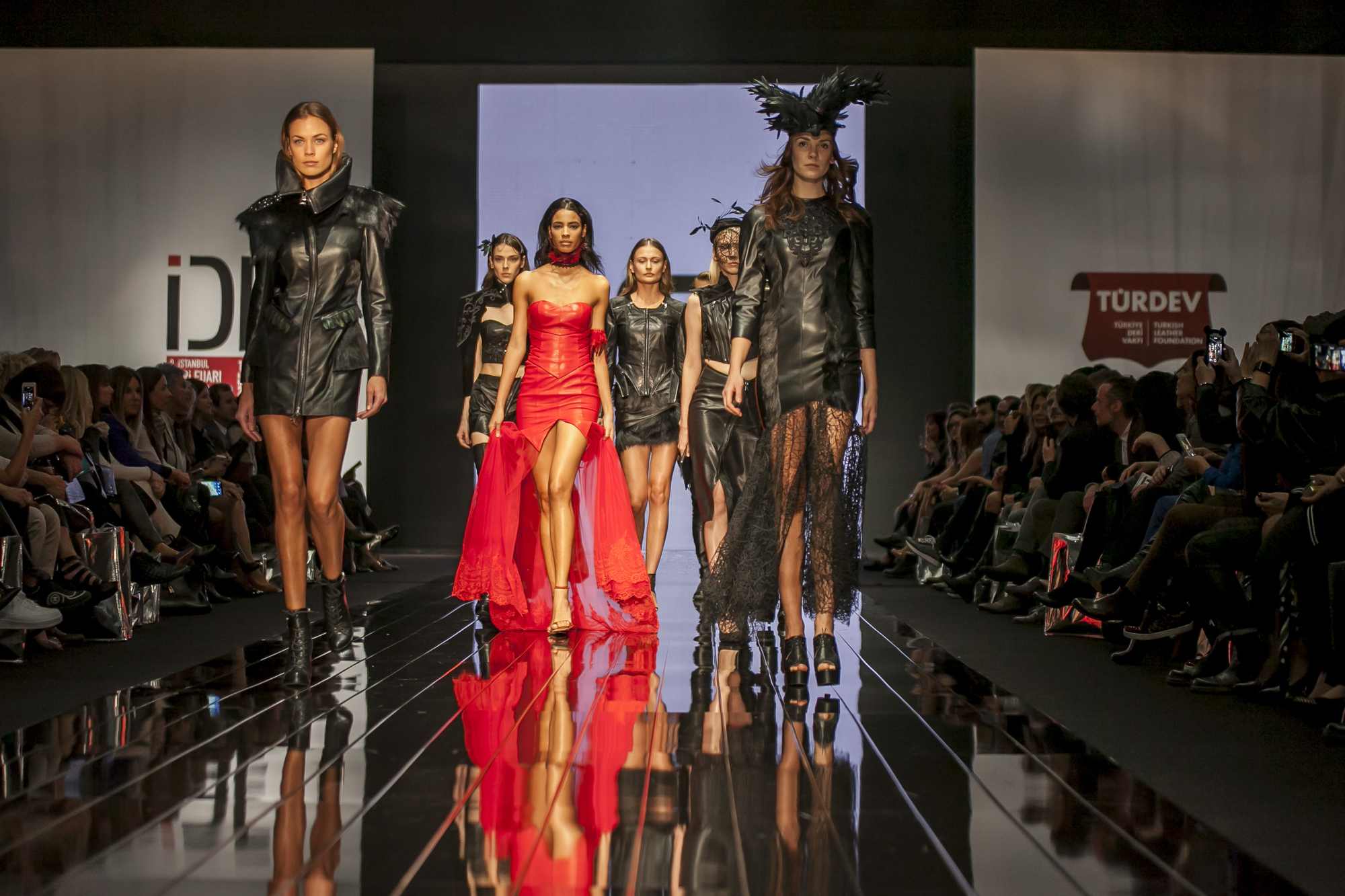 Industry representatives from 35 countries IDF 2014 held at the TÜYAP Fair, Congress and Convention Center, İstanbul /Turkey between the dates of November 18 – 20, 2014, gathered international leather  and  apparel  manufacturers, tanneries,  chemical, machinery and  accessory producers  and  fashion  designers showing  their latest products, designs, technologies and 2015-2016 trends. With an export volume more than 4.5 billion dollars including exports with special invoices and tourist purchases, IDF 2014 is a unique platform for the representatives of Turkish Leather Sector to establish new business connections, strengthen their current connections and penetrate into new markets via the international purchasers to be hosted.
Large-scale orders IDF 2014 has been visited by 15,093 professionals, 1.868 of whom were from 74 countries. The fair hosts a procurement group of 103 persons in total from UAE, China, France, India, Netherlands, Hong Kong, UK, Spain, Italy, Japan, Korea, Russia, Tatarstan and Ukraine.  Realized with the support and cooperation with 17 non-governmental organizations in total, IDF 2014 was followed by 30 Fashion and Leather Sector Media Editors from 10 different countries..IDF 2014, which embodies all product groups of leather and standing out with its uniting nature, is a "Leather Festival" where anything related to leather can be seen and leather meets with art, design and creativity through various activities, unlike a traditional "fair".Autumn-Winter 2015-2016 propositions at the IDF 2014 TREND AREA Professionals found the opportunity to look at the Autumn-Winter 2015-2016 propositions at the trend area leaded by the famous Turkish Fashion Designer Simay Bulbul and created by the Istanbul Leather and Leather Products Exporters' Association (İDMİB) and Genuine Turkish Leather (DTG).IDF 2014 unites renowned personalities at its workshops. Among the speakers of "LUXURY, RETAIL AND LEATHER: WORLDWIDE WORKSHOP are Leyla Alaton, Member of Alarko Holding Board of Directors; Demet Sabancı Çetindogan, Demsa Grop Vice President; Gianluca Cantaro, L'Officiel Italia and L'Officiel Hommes Editor; Vugar Isaev, the owner of Snowqueen, the biggest leather retail chain in Russia; Alan Prada, Vogue Uomo Italy Editor; Hüseyin Acarlıoglu, Chairman of Woux, the biggest and tiptop leather/fur retail chain of the world; and Kadri Soygül, Founding Partner and Creative Director of Vizyon Deri which has executed a three-season agreement with famous designer Hüseyin Çaglayan for "VSP Chalayan" brand and made an overwhelming impression by opening its boutique "VSP" in Marais, Paris.Among the activities to be held in IDF 2014 under the Main Sponsorship of ULS Veller Cargo and Automotive Sponsorship of AUDI, there are, along with the "Trend Platform" where 2015/16 trends are exhibited in Daily Fashion Shows called "UNLIMITED LEATHER" consisted of Mefi , Adamo, Derimod, Elibol by Simay Bülbül, Emelda by Deniz Berdan, Lento Fur, Punto by Hakan Yıldırım latest collections which live up to the Fashion Week standards seating for an audience of 400 people. IDF 2014 has also opened new horizons with "ART MEETS LEATHER" exhibition of the leather objects specially designed by The leading Artists of  the Turkish Contemporary Art Kemal Tufan, Günnur Özsoy, Ebru Kale and Meray Akmut for IDF 2014 and curated by Nevzat Sayın; "FASHION LAB", which is a special project encompassing various designers who create and have become trend-setters in leather bags, accessories and clothing; "DESIGN LAB" where creative uses of leather in daily life are exhibited outside its ordinary use and "Challenge for Leather" Contest organized under the sponsorship Kazlıçesme R&D.
Organized by TÜYAP Fairs and Exhibitions Organisation Inc. in association with the Turkish Leather Foundation (TÜRDEV),  with the support of the Leather Apparel Producers Association of Turkey (TDKD) and other leading organizations of the industry  and has been held with the support of KOSGEB and the Genuine Turkish Leather  (DTG).
For more information on IDF 2015 to be held between November 3 and 5, 2015 please visit:
or contact IDF Project Group  idf@tuyap.com.tr