Events
---
From the moment guests approached the Royal Castle in the historical Old Town sector of Warsaw, they knew that this would be a special night. Speculation in the month leading up to the December 10th fur gala that NAFA hosted had such a buzz that it quickly became the "event of the season".
---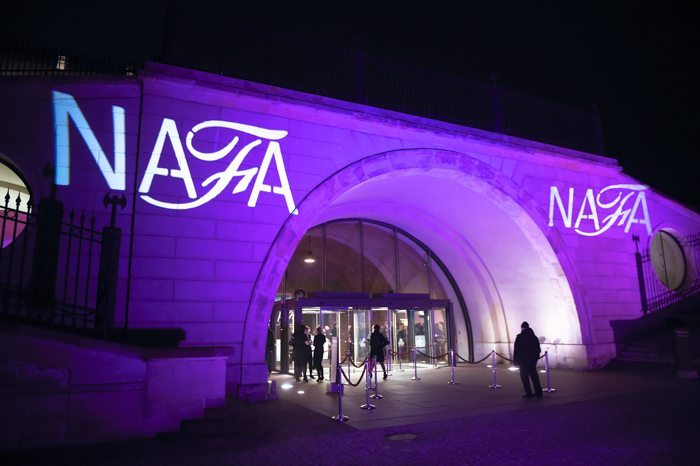 The "Winter Carnival" theme played out perfectly in the elegant Kubicki Arcades of this regal setting. A beacon of colored lights added brilliance to the outer walls of the Castle and announced NAFA's presence.
The over 350 guests included senior government officials from Poland and Canada. Adding to the glamour of the evening were some of the country's leading fashion designers and stylists. Both fashion and trade media were on hand to document the excitement and the many VIPS who enjoyed the evening.
Following the champagne reception, NAFA's Senior Vice Presidents of Europe and Marketing, Sebastian Jansen and Rob Cahill respectively, took to the stage to welcome guests to this extraordinary display of designer fur garments from eight countries. These fabulous fashions were produced in the finest quality of ranch raised mink as represented by the NAFA Mink and Black NAFA labels, as well as the most popular NAFA Northern Wild Furs and ranch raised NAFA Fox
The collection of furs was, indeed, beyond expectations. The dramatic opening of the performance featured an inspired collection from Braschi Fur of Italy. The NAFA Northern Canadian Sable and Lynx Cat drew immediate applause.
The magnificence of the natural palette NAFA Mink was seen in the collections of Abel and Karen Rizzi of Dubai and EFD Papadopoulos Furs of Greece. Luxury abounded in all. Abel chose to offer soft tones of sapphire and pastel mink focusing on short feminine jackets and swing coats. Karen Rizzi opted for palomino mink as well as sapphire mink. Here the designs were fully flared but often belted, creating a slim line. EFD presented intricate shapes and silhouettes in silverblue mink. The ultimate in quality and craftsmanship were obvious to all.
Korea's premiere fur brand, Jindo, joined the fashion parade with a diverse collection of light weight vests and jackets in Black NAFA and Silver Fox, along with lavish trims of NAFA Northern Lynx Cat on NAFA Pastel Mink.
Guifuren Fur Square, a leading retailer of fine quality furs in China, presented an exclusive grouping designed by Victoria Kazant, a very popular European designer with a great understanding of fur, and another by well known Korean prêt-à-porter designer Jung Do.
Highlights from internationally renowned fashion designers added further interest to the evening with their mix of fur from all the fine quality NAFA labels. Offering exclusive designs from their collections were: Gianfranco Ferré, Italy; Michael Kors, USA; Guy Laroche, France; Farley Chatto, Canada; Langiotti, Italy; and Avenue, Russia.
A casual approach to fur fashion was presented in the NAFA Northern Lights collection. This year's collection featured raccoon, coyote, beaver and fisher in an eclectic mix with cashmere, leather and wool.
Immediately following the gala, a sumptuous buffet along with after-show cocktails awaited guests. There was unending thanks and praise for NAFA's recognition of this important fur market.
Fur manufacturers and retailers from Poland and other European countries shared their thoughts on the event with Rob Cahill. He echoed their sentiments, "NAFA is dedicated to supporting the fur industry worldwide at all levels. Providing a platform as NAFA did tonight to share the beauty of fur with so many in such a unique setting was unimaginable."
From the producer perspective particularly, but the fur trade as a whole, Sebastian Jansen summed it all up, "The many mink ranchers from across Europe were so grateful that NAFA has recognized their importance with such a grand gathering. To be associated with the NAFA brand is opening new opportunities for them."