Events
---
Once again it was standing room only as NAFA hosted their annual gala fur fashion show in Moscow. The Museum of the Patriotic War of 1812 on the Revolution Square in Moscow was the venue for this elite event .
---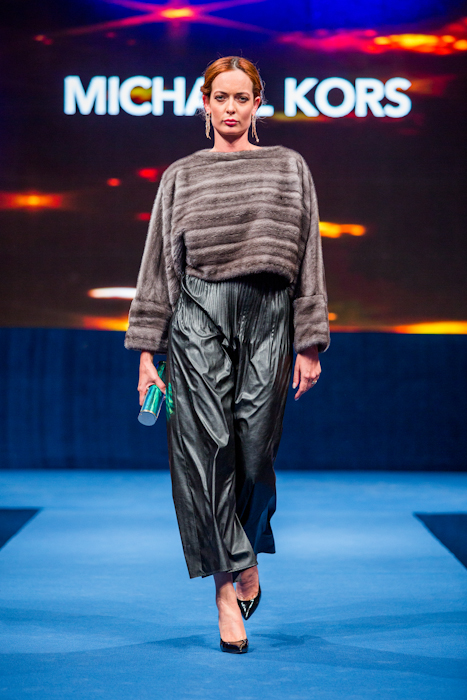 Over 400 VIP guests and media began the evening at the champagne reception that had television hosts interviewing the many celebrities and designers in attendance.  Photographers from fashion magazines and newspapers enjoyed the many photo ops available with the mix of socialites and stars.
Following a brief welcoming speech by Diane Benedetti, NAFA's International Marketing Manager, the presentation of Top Lot awards took place.  Oksana Moroz, Marketing Director of Eastern Europe, invited many VIP buyers on stage to accept their award plaque which was presented by Bobby Poulios, Vice President of Buyer Relations.
Immediately thereafter, the glamour and excitement of the occasion took to the stage.   The fur creations of premiere Russian prêt-à-porter designers Igor Chapurin, Sergey Efremov and Igor Gulyaev along with internationally renowned designer brands Gianfranco Ferré furs, Michael Kors, Guy Laroche, Dennis Basso and Farley Chatto joined celebrated fur labels for a mesmerizing parade of fur fashion.  The high fashion furriers included:  EGO, EFD Papadopoulos Furs and Langiotti of Greece; Braschi of Italy; Abel Furs, Karen Rizzi and DiCara of Dubai; Avenue, Prima Donna and Elena Furs of Russia.The outstanding collections of furs included Black NAFA Mink, which is recognized as the world's finest quality of mink.  Silhouettes ranged from short bolero jackets to asymmetrical stroller coats to extravagant ankle length wraps.NAFA Mink in magnificent shades of violet, pearl, white, sapphire, blue iris, demi-buff and mahogany also provided many and varied shapes that were suited to the trendy lifestyle of the modern Russian woman.NAFA Silver Fox was seen in its natural beauty but also dyed in the latest high fashion colors. This soft, tremendous feminine fur accented full fur garments of mink as well as providing the perfect accent for coats of precious fabrics.The collection of NAFA Northern wild furs was represented by luxurious lynx cat, Canadian sable, fisher, raccoon, beaver, coyote and red fox.  Designers took inspiration from the uniqueness of each of the species creating one of a kind garments that drew tremendous applause.