Emerging
---
Milan, March 6 2014 – REMIX, the international competition that discovers new talent in fur design, named its winning designers last night at its annual award ceremony, with the support of Vogue Italia. Via REMIX, The International Fur Federation aims to regenerate interest in fur as an important fashion trend and to promote creativity in fur design now and into the future.
---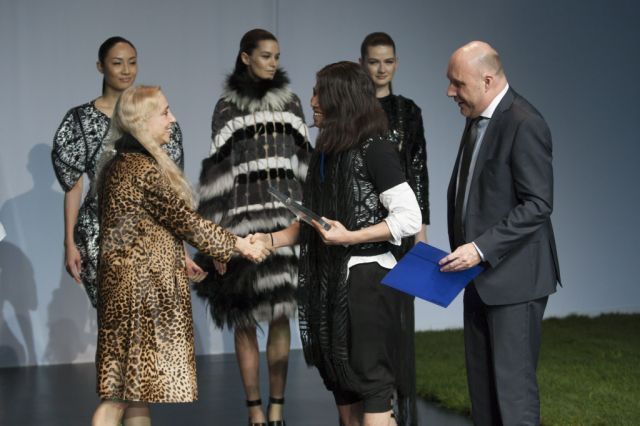 Shohei Ohashi // Japan, was awarded the Gold prize. Shohei wowed the jury with three looks inspired by optical art, working with material effects and nuances from different furs, creating a modulated rhythm with mink, Finn raccoon and goatskin. The designer, who won the Pimp My Coat Award at Remix in 2013, is at his last year at the Osaka Bunka Fashion College, is expected to graduate in 2014 and he wants to seek out new expressions and new techniques for equally innovative fashions.
The jury, chaired by Vogue Italia's editor-in-chief Franca Sozzani, selected Ohashi's innovative design, from over 36 garments entered by other up-and-coming designers from all four IFF regions. Furthermore, the judges and fashion designers Tommaso Aquilano and Roberto Rimondi offered to Ohashi an internship in their fashion house.
The REMIX Silver prize went to Altynai Osmoeva // UK, for her using of mink fur that brings a warm touch and a decorative element in her piece, thanks to the use of serigraphed pink colouring. Originally from Kyrgyzstan in Central Asia, the designer graduated from Central Saint Martins College of Art and Design in June of 2013 after having studied fashion design and print womenswear.
Mijia Zhang // USA scooped the Bronze award with a colorful and fun mink coat that matches technology with fur textures. This Chinese fashion design student from Parsons the New School for Design in New York focuses her interests on the ultra-technological aspects of robots.
Nikoline Liv Andersen // Denmark won the Pimp My Coat Award for her experimenting with fur as a material and in developing new ways of treating fur and of piecing furs together. Nikoline, artistic and extraordinary 35 years old designer from Copenhagen, has been working in collaboration with the action house, Saga Furs, where she has played a role in experimenting with fur as a material and in developing new ways of treating fur and of piecing furs together. Pimp My Coat, now in its third year, provides designers with the opportunity to remodel a vintage coat to reflect current fashion trends.
The IFTF would like to congratulate all the designers who entered REMIX 2014. We look forward to following what we are sure will be very successful careers in fashion design. All the designers taking part in the REMIX design competition are winners of their own national design competition, resulting in an outstanding level of innovative design.