Emerging
---
DISCOVERING FUR-module in JAN 2013 brought young designer Ernesto Hinojosa Ruiz to Finland
by Carlotta Pellizzari
---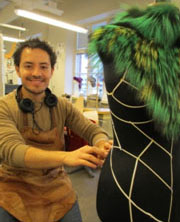 DISCOVERING FUR-module in JAN 2013 brought young designer Ernesto Hinojosa Ruiz to Finland He started his Fur Design studies by participating this module. Active and talented designer has many ideas about fur and plans for the future.
"I believe Fur is one of the greatest and more precious materials I could ever work with because it takes a life to get it and in order to preserve the greatness of it, the design must be respectful and skilfully produced".
Ernesto Hinojosa Ruiz is a Mexican student born in 1988. He has recently graduated from Fashion Design (BA) at prestigious design school Instituto Marangoni in London.
Ernesto has also studied Industrial Design (LDI) at ITESM in Mexico City and currently is working and studying Fur Design at CENTRIA University of Applied Science in Finland where he was accredited with a scholarship for a special programme in Fur Design.
Been trained and mentored by his grandparents, Sidonio Ruiz and Carmen Ruiz who were a well-known Tailor and Fashion Designer in Mexico, Ernesto showed a special interest in traditional tailoring as well as pattern cutting which led him to create a first collection at 12 years old.
By the time Ernesto moved to London in 2009 to attend Fashion School, he got mesmerized by clash of vintage fur coats and high end fur labels. Immediately he got very interested in the fur trade and found himself winner of the 2nd prize at the 2011 edition on BFTA/ Saga Furs National Competition in London where he got to interact with specialized techniques and First quality materials.
Ernesto is now specializing in Fur Design, a merely high end type of garments where fur is the subject matter.
His plans go from work at a prestigious fur atelier to create a solid brand dedicated to fur products and of course, develop a collection under his label to promote skilful design and extensive study of traditional techniques.
Currently, he is working as an important member of design team in a Finnish fur company. "This is a very special opportunity where I am able to learn from the very best and of course, develop a specialized option towards fashion".