Curiosities
---
New exhibition centre for the April 2013 Kastoria Furriers Association Fair.
---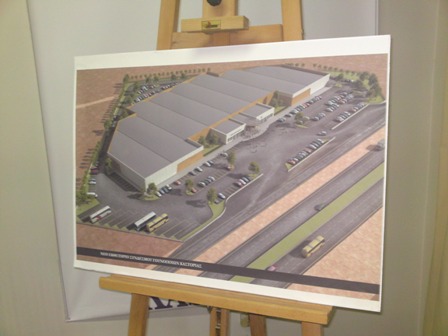 The Kastoria Furriers' Association new exhibiton centre, named"The Prophet Elias", will soon be a reality. The contract has been signed with the building company and the structure will be completed by next February, in time to house the 38th International Kastoria Fur Fair from April 4th through 7th, 2013.
The association's efforts to guarantee the construction of a contemporary exhibition center for the fur trade over the course of the past four years have finally borne fruit. The old E.DI.KA SA, where the Fair was held in the past, was no longer sufficient to satisfy the needs of all the exhibitors.
As far as the new Fair goes, Mr. Kallisthenis, president of the Kastoria Furriers Association, emphasized the fact that "other fairs will be held in the new space. The total surface area will be 13,000 square metres which can be used in accordance with the needs of each event. The Administration and I are happy to see this project go ahead. It is an investment in the future of Kastoria, and of western Macedonia."
Potential exhibitors have already begun to show their interest in participating in the Fair, declaring how many square meters they wish to occupy. The official registration will begin shortly at the Kastoria Furriers Association headquarters.