News
---
Dragon year 2012 is the 36th year since Designer Chie Imai began fur design.  Focusing on glittering dragon that is energetic and soaring through the air, driving away the difficulties of last year, the theme of 2012-13 Collection is "MOSAIQUE de CHIE Dragon".  Filled with rich colors and the warmth of top-quality furs, the Collection [...]
---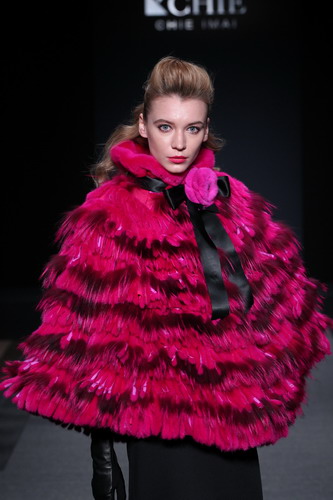 Attualità - Confezionato:
Dragon year 2012 is the 36th year since Designer Chie Imai began fur design.  Focusing on glittering dragon that is energetic and soaring through the air, driving away the difficulties of last year, the theme of 2012-13 Collection is "MOSAIQUE de CHIE Dragon".  Filled with rich colors and the warmth of top-quality furs, the Collection is vibrant and dynamic, yet gives off an aura of eternal elegance.
Theme color is "Hot, Flashy Pink", radiating bright, lively energies.  Pink is said also to bring in peace of mind, health, and feeling of happiness, and it is our desire that the Pink power allows Japan to move forward to the future with all of us together.
The core of Collection is the identity and the representative work of Designer Chie Imai -  "MOSAIQUE de CHIE".  Dyeing top-quality Mink furs in bright-colors, cutting out and piecing them in Mosaic pattern by remarkable technique, "MOSAIQUE de CHIE" offers beautiful color combination and light wear comfort, exhilarating your heart.
ROYAL CHIE established Shanghai office in 2010 to emphasize and expand its activities in China, and as part of its endeavors, participated the 3rd Fukuoka Asia Collection (known as FACo, a Fukuoka version of the Girls Collection) in Dalian, China in September 2011.  ROYAL CHIE also participated the 4th FACo 2012 in Fukuoka City.
Through Fukuoka prefectural government, a part of proceeds from last year's collection and a contributions from ROYAL CHIE were donated to Miyagi prefectural government of the affected area by 2011 Tohoku Earthquake and Tsunami.  ROYAL CHIE will continue this effort for next 5 years, sending prayers for their recovery.