News
---
Milan hosted the sixth Festival of Russian fashion sponsored by Società Italia.
---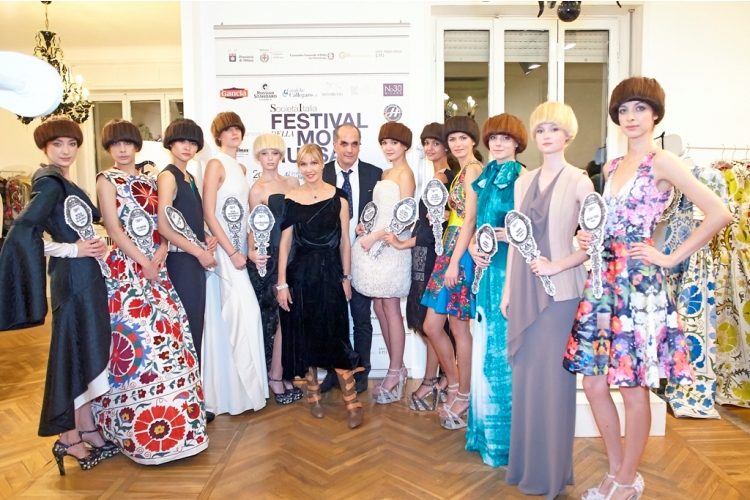 Numerous members of the public and representatives of the international press attended the 6th, Milan-based Festival of Russian Fashion featuring a rich events calendar. In addition to showcasing a fascinating overview of contemporary fashion, the 3 day event (13-14-15 November) also offered a number of fantastic opportunities including events, workshops and one-to-one encounters with industry experts, fashion gurus, opinion makers and buyers.
The highlight of the event was the inaugural cocktail held on the evening of Wednesday 14 November, during which the Festival Committee, consisting of several of the most authoritative protagonists of the Italian fashion industry, journalists, buyers and opinion leaders presented all the designers present with attendance certificates signed by important representatives of the world of fashion and entrepreneurship including Cav. Mario Boselli, whose greetings were related during the inaugural press conference and presentation of the Festival by Vittorio Missoni acting as a representative on behalf of the National Chamber of Italian Fashion.
In addition to the "Original Design", "International Promise" and "Tailoring Quality" categories, this year, for the first time, new, special prizes were also introduced: a "Special Mention" award given by Ambassadress of the Festival Nicoletta Romanoff to the designer capable of best combining the Russian world with the Latin one; original medals in precious Murano glass with gold, silver and bronze reflections chosen by the Mistress of Ceremonies of the Festival Catherine Malandrino and awarded to the three designers whom she felt would make the most impact on  the American market; and the special prize awarded by multibrand boutique N°30MILANO headquartered in via della Spiga. The "Original Design" award was given to Kazakhstan designer Aya Bapani, who conveyed the ancient art of Kazakhstan felt in ultra-feminine garments and who also won the Catherine Malandrino gold medal.
The "Tailoring Quality" award went to Georgia-based designer Tamuna Ingorokva who, in her new collection, drew inspiration from the strong, unconventional personalities of the women of her country. The plaque for the best "International Promise" was awarded to Russian designer Masha Tsigal. Masha, both of whose parents are artists, presented a collection inspired by Soviet posters.
For her "Special Mention", Nicoletta Romanoff chose Julia Dalakian, who has already presented several of her creations in Berlin, Brussels and New York, for her collection charged with positive input, luminosity and movement. A perfect mix between tropical nature and futuristic architecture.  The silver and bronze Catherine Malandrino medals were won respectively by Russian designer Natalia Soldatova with her Soldanata brand, inspired by the graphic, minimalist forms of military uniforms and Alyona Serebrova for Serebrova, whose collection offers an ultra-contemporary interpretation of her Ukraine roots. Last but not least, the special prize offered by multibrand boutique N°30MILANO went to Avtandil Tskvitinidze, for a collection played out on differences and contrasts, for example, between silk and raw leather, to create new forms of fusion.